The consumption of digital content is increasing day by day. According to recent research, video content is the primary source of engagement these days. The dynamic nature of the video is attracting more users, which in turn are leading to better engagement and interaction. However, these beautiful and engagement rich videos are difficult to create, and it takes a lot of time. The evolved smartphone platforms have eased the video editing a bit. The users can edit the small changes on the go with the help of their iOS or Android smartphones. We have curated a list of video editor apps of 2019.
The list covers all the standard and premium tools that a user may require to edit a few changes or entirely create a video on the go. There's a fantastic collection of apps on their respective app stores for both Android and iOS smartphones. The user can easily upload the videos to Facebook, Twitter, Instagram, and YouTube with simple editing using any video editing app.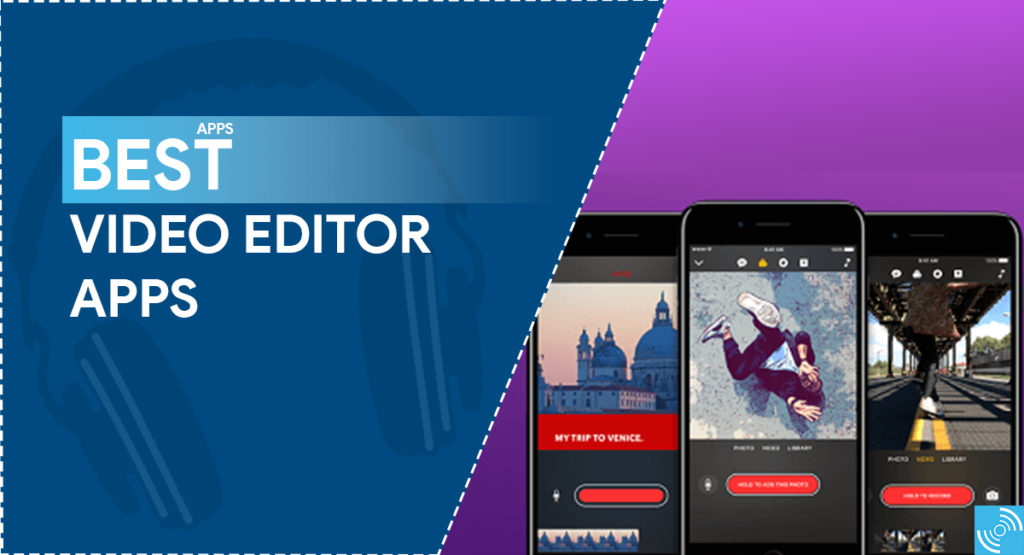 The Video content is quite challenging to handle and more tricky to edit. Several professional tools such as Adobe Premiere Pro, Final Cut Pro X, Pinnacle Studio, and others are required to edit and compose a high-resolution video fully. However, smaller editors with the capacity to arrange the clips and make some changes are present in the video editor apps based on iOS or Android.
Here are some best video editor apps for Android and iOS.
Adobe Premiere Rush Editor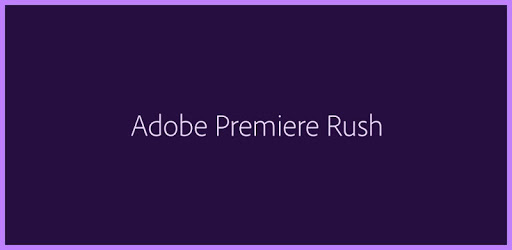 Adobe is always known for its professional tools to edit images, audios, videos, and flash files. On the lines of Adobe Premiere Pro for Personal computers and laptops, the company has announced the Adobe Premiere Rush Editor for video editing on mobile platforms.
The Adobe Premiere Rush Editor allows the users to shoot, edit, and share videos online. It offers various tools and video effects to make the video look awesome without wasting any time. It provides compatibility across phone, tablet, and desktop.
Just after capturing the video, the users can start editing the content and can add music, titles, do voiceovers, and apply video effects. The multitrack timeline offers flawless editing and enhances productivity while using small screens. The user can edit high-quality content straight from the app without any watermarks.
The users can easily arrange the video, audio, and graphics by dragging and dropping. The Automatic sync to cloud and sharing capabilities make the Adobe Premiere Rush Editor our favorite choice. The users can also upgrade to a paid subscription of $9.99 /mo for 100GB cloud storage and other benefits.
Key Features:
Multitrack timeline
Eay Editing
Cloud Storage Support
Pro-Quality Editor
Download for Android
Download for iOS
FilmoraGO
FilmoraGO is another premium tool with free availability on both iOS and Android. It is a powerful video editor offering several professional tools and filters for easy and efficient video editing. Apart from the basics like cut, render, and trim, it also provides the ability to play in reverse, do square videos, and for Youtube having 16:9.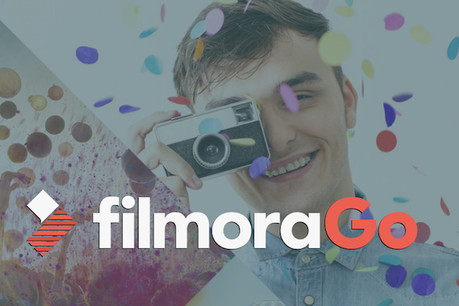 The user can easily mix photos and videos either by importing the photo and video clips or directly downloading from Facebook or Instagram. It inherits One-click theme support for FilmoraGo along with inbuilt Music support. It supports playing videos in reverse, slow down and speed up, several transitions, overlays and filters, texts and titles, elements, and other functions in WYSIWYG editor.
FilmoraGo support HD quality video export at any time without any issue. The app comes with support for English, German, Italian, Turkish, Japanese, and other popular languages. It offers in-app purchases.
Key Features
Prebuilt Themes
Reverse Play
Social Media Support
Presence of every editing tool
Download Filmora for Android
Download Filmora for iOS
KineMaster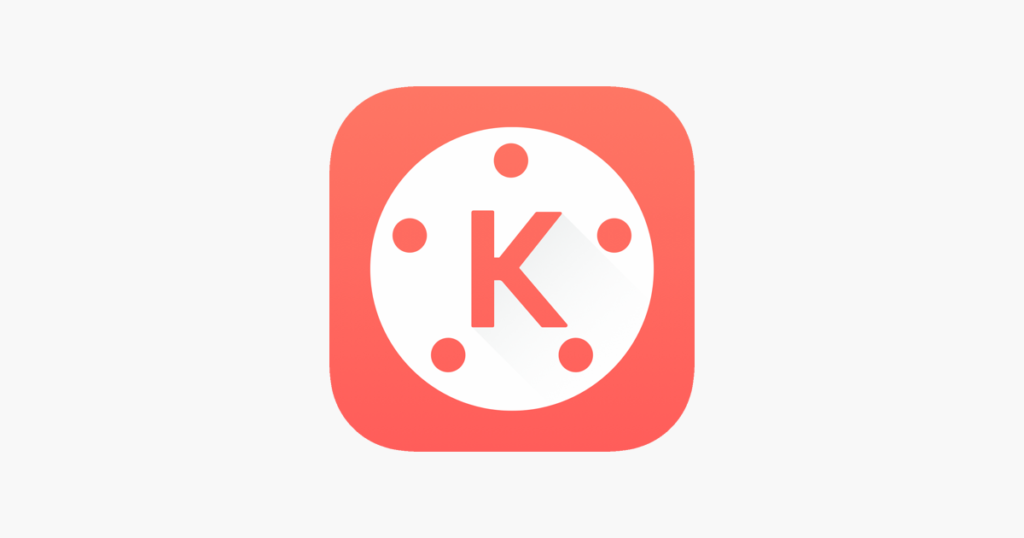 It is a powerful editing tool available for both iOS and Android. KineMaster is a robust video editor housing multiple features such as blending mode, voiceovers, chroma-key, speed control, special effects, and much more. It fully supports TikTok, Instagram, YouTube, and other social media websites.
Kinemaster supports multiple layers of videos, stickers, and special effects. It also brings reverse video features to give it a unique look. Like the other premier video editing tools, it supports blending modes, beautiful results, voiceovers, background music, etc. It is also a host to trim, splice, and crop features for a video.
The user can purchase premium music, fonts, stickers, transitions from the Asset store. It has the facility to export a 4k video at 30 frames per second. It is available for free on both iOS and Android, but there are certain paid features and assets.
Key features
4K export at 30 FPS
Reverse video feature
Speed control for video
Asset store
Download for Android
Download for iOS
PowerDirector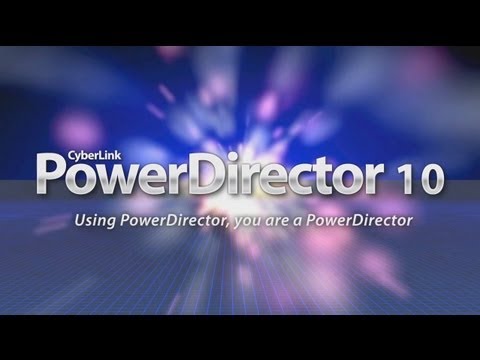 Power Director is a powerful video editing tool available for Android. Being the Editor's Choice App on Google Play, the app has a 4.5-star rating and 70 million users across the globe. It envelopes some iconic Power Director features from the PC. It features a 4k resolution export facility, fast froward or slow-motion videos, and a video stabilization feature. Power Director can easily edit background with a green screen editor using chroma key.
Glitch Effect and Transitions are new features that have been added to the app for creating futuristic-looking videos. It offers 400+ free templates effects, 30+ video effects, 40+ transitions, and 290+stickers. The user can add text, background music, voiceovers, and apply effects for videos and other adjustment tools.
The PowerDirector app outputs video faster with improved stability and 64-bit support. It is fully compatible with Chromebooks and offers export in 720, 1080 and 4K. There are a lot of premium features with in-app purchases. Unfortunately, it is not available for iOS devices.
Key Features:
Support for over 400+ templates
Quick and Easy Production
Premium Features
Video Stabilizer
Download for Android
Quik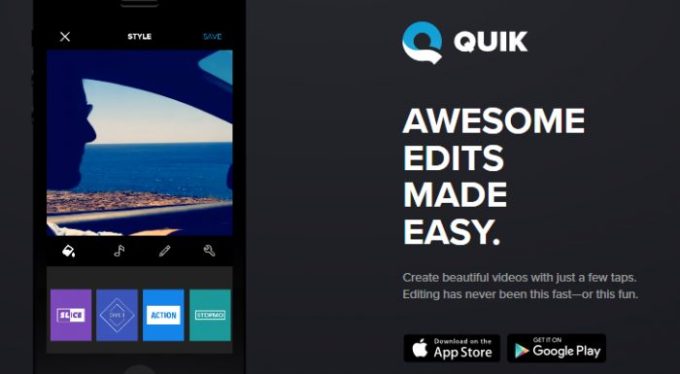 Unlike the above professional video editors, Quick is a new generation video editor app. It offers a lot of different yet intuitive features to edit short videos. There are about 24 video styles that can be used to customize the video.
It is a perfect companion for less intense editing works. The user can choose favorite photos and video clips to generate a video quickly. It adds beautiful transitions and effects to sync with the audio in the background. Quick allows users to add up to 75 photos and video clips from Gallery, Google Photos, Dropbox app. It can even add motion photos to the video.
Quik automatically analyzes GoPro footage under three different modes and selects great moments. It can easily detect faces and colors to enhance the photo framing capability. Quik hosts 23 themes eloped with intuitive graphics and transitions. The basic features such as reorder, trim and rotate are present in the Quik.
There are around 100 free songs, or the user can choose from their own collection. Export videos in 1080p or 720p resolutions. There's an automated feature to turn your last 24 hours adventure into a flashback video.
Key Features:
Quick Videos
23 Themes, 100 free sounds support.
GoPro Footage automation
GPS Stickers
Quickstories with GoPro App.
Download for Android
Download for iOS
VivaVideo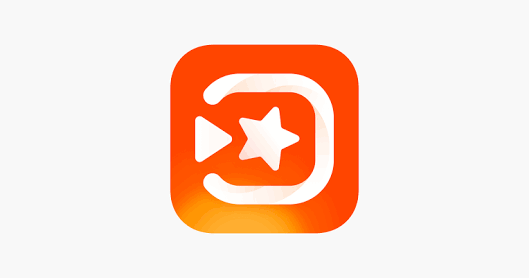 It is a free video editor available for both Android and iOS users. VivaVideo has gained massive popularity for the past few months. It can make a beautiful video from pics with songs and can add transitions and effects.  VivaVideo maker is popularly known for its feature to cause a video with the song. It is being used by a large number of TikTok video makers.
It helps users to cut, crop, merge, copy, paste, and more. VivaVideo can allow you to add video editing effects such as blur, background, speedup videos, slow down videos, slow down videos. It can easily add blur background to YouTUbe and Instagram videos. The glitch effect, along with other transition effects, has been recently added via a recent update.
VivaVideo can even help users to create memes and blur videos easily. It carries the capacity to export video/movie in 720p, 1080p, and 4K. You can quickly get the App and choose from several special effects, stickers, filters, and animated clips.
Key Features:
Crafted for TikTok USers
100+ Special Effects
4K Export Support
500 Million Users
Download for Android
Download for iOS
These are some best video editors for both Android and iOS devices. However, these tools won't be a favorite choice to fully edit an HD video but still helps to finish small tasks for social media. You can also recommend the apps as there are many video editors, that we may have missed.
Related: Best Productivity Apps for Smartphones in 2019